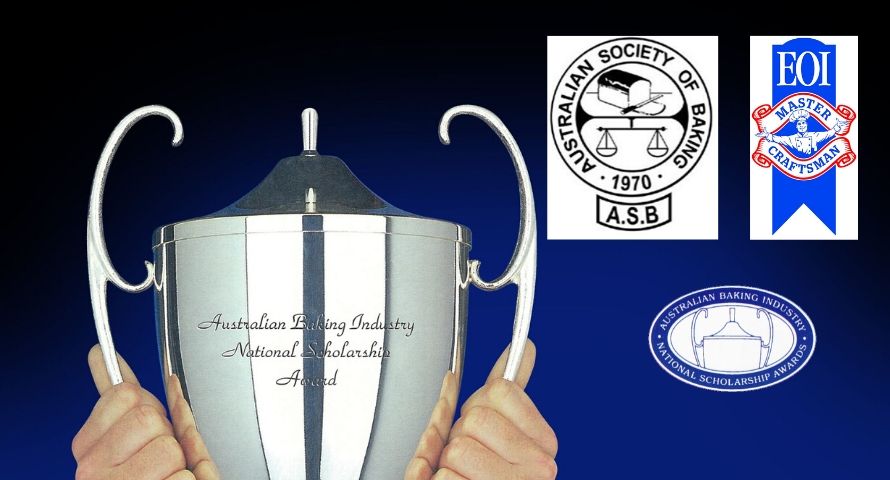 ARE YOU YOUNG, OR YOUNG AT HEART, AND CURRENTLY WORKING WITHIN THE AUSTRALIAN BAKING INDUSTRY?
If so, we would like to give you the opportunity to 'stand up and be counted' in the best possible way!
The ASB is partnering with EOI and a select group of sponsors and industry supporters to bring you the 2022 Australian Baking Industry National Scholarship Awards (ABINSA).
The aim of this prestigious competition is to showcase Australia's best bakers and pastry cooks to the world. So, if you're currently employed in a retail, manufacturing, or educational role within the Australian baking industry and you feel you have a contribution to make now is the time to register for your ABINSA Entry Kit and get your entry in.
How do the Scholarships work? There are two (2) age categories – if you're 18 to 24, then the Sydney J Packham Baking Industry Medal is your category. Fill in the entry form and we'll send you your free entry kit containing a broad cross-section of industry questions for you to research, answer & return to us. If you're aged 25 and over, the Arthur E Denison Trophy category is for you. The Denison requires entrants to research and submit a paper on one of the four industry topics, as nominated in the entry kit.
Who can enter?
The Scholarships are open to almost anyone in our Australian baking industry. If in doubt, ring  the coordinator on 0419 919 820 or email
austsbaking@gmail.com
 to check your eligibility.
What are the rewards? Prizes include Certificates of Excellence,
up to eight five day regional trips, and two fabulous overseas scholarships,
to the IBA Conference in Germany. Full details are included in the entry pack you receive upon registering
Is it difficult?  Some people find it reasonably easy and some a little difficult. Most find it exciting, and almost everyone who takes up the challenge finds it rewarding… plus…there's plenty of Industry help available out there too!
What is the entry cut off date? Entries need to be submitted by 19 August 2022.
EVENT PARTNERS
Australian Society of Baking
EOI
GOLD SPONSORS
Allied Pinnacle
Mauri
Intralox
SILVER SPONSORS
Australian Bakels
Novozymes
National Baking Industry Association (NBIA)
INDUSTRY SUPPORT SPONSORS
Baking Association of Australia (BAA)
Bake Skills Australia